Multiple Kayak Trailers
Trailers for transporting multiple kayaks


| | |
| --- | --- |
| | Trailex Ultralight Aluminum Trailers come with a Three Year Limited Warranty. Almost 50% lighter than steel trailers and they Never Rust |
Trailex Model UT-1200-SK Trailer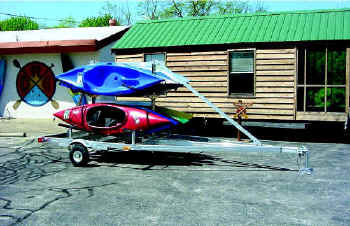 Trailex UT-1200-SK Trailer - kayaks not included
All Aluminum, All Bolted Construction, All Adjustable
Trailex Multiple Kayak Trailers have epoxy coated leaf springs and hot dipped galvanized axles. These trailers require common carrier or motor freight shipment, and are easily assembled using only simple tools. Since the Trailex Multiple Kayak Trailers are made of aluminum, they are maintenance-free in addition to being strong and lightweight. Their light weight allows towing with today's smaller vehicles.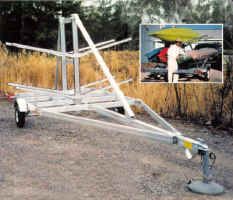 Trailex Model UT-1200-SK Sixteen Kayak Trailer
The kayak supporting crossbars have special cushioning vinyl extrusions to protect the gunwales when trailering. The ends of all crossbars are protected by vinyl extrusions to eliminate the possibility of damaging a kayak while loading or unloading
Models

Capacity:
Weight:
Length:
Width:
Height:
Crossbars:

Tires:
Coupler:
Electrical:

UT-1200-SK
16 Sea Kayaks
1200 lbs
390 lbs
18'-6"
8'-6"
7'-6"
60" Spacing
31" Height
4.80 X 12"
2"
Flat 4 prong

Federal Highway Regulation Lighting

Safety Cables

Adjustable Web Strap Clips (22 each)

Padded Area for Paddles

Tongue Skid

Crossbar and End Vinyl Extrusions

High Speed Demountable Galvanized Wheels & Tires

Adjustable Undercarriage

Epoxy Coated Springs

Galvanized Wheels

TXBX-K Storage Box-
Box is 74" L x 22" W x 11" D. Made also from aluminum, it is handy for paddles and life jackets.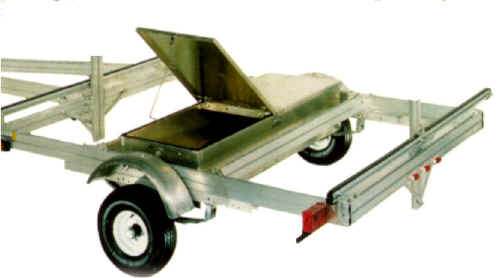 TXBX-K Storage Box- One of these boxes can be installed on the UT-1200 trailer. . Box is 74" L x 22" W x 11" D. Also made from aluminum, it is handy for paddles and life jackets.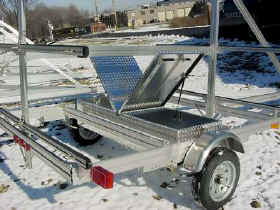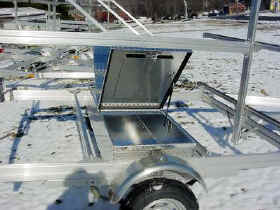 PRICES
| | | |
| --- | --- | --- |
| UT-1200-SK | 3,031.00 | + shipping & handling |
Optional Extra Equipment

STC
Spare Tire Carrier
59.95
JACK-HD
Adjustable Front Parking Jack
119.95
12GAL
480 X 12" Spare Tire- Galvanized
99.95
TXBX-K
Storage Box 74" X 22" W X 11" D
983.00
FWSC
Package of Four (4) Extra Web Strap Clips
( For Attaching Strap End Hooks)
29.95
Bearing Protection System
Included on Every Trailer


Sure Lube low pressure bearing lubrication system. Protects bearings and prevents any seal damage.
Easy to use. A Zerk Fitting is located under the axle's end cap. Removing the end cap allows you to use a
small grease gun to lubricate the bearings.
The new grease pushes the old grease out.
| | | |
| --- | --- | --- |
| FWSC Option | | Set of Four Clips |
| Optional Tie Down points for Web Straps or Bungee Cords - Use to add extra tie down points to secure boat. Easily adjusts to any position by sliding. | | FWSC Option includes Four Sliding Square Eyebolts. These can be installed on any side of a member on the unit that has a slot and then locked in place by tightening the nuts. |
NOTE This Trailer comes with Multiple Web Strap Clips already included -Please See the Specifications Chart for the exact number of clips provided.
Application Information

Model UT-1200-SK carries up to sixteen Kayaks or Sea Kayaks

| | |
| --- | --- |
| | These trailers can be shipped via common carrier i.e. motor freight. The frames are assembled and then wrapped. Running gear, superstructure, and lighting are boxed. |
Optionally, this trailer may be delivered to your location fully assembled, depending on your area. Please contact us for shipping quotes.
Patented T-Bolt Construction

Fully Adjustable

Heads of bolts slide to any position.

Requires only one wrench to tighten

Lock nuts on all bolts

Strong & lightweight
Other Models Available
For 0ne Kayak Model SUT-200
For Two to Four Kayaks Model SUT-250-M
For Four to Eight Kayaks or to mix and match Kayaks and Canoes on one trailer see our Multiple Canoe Trailers
For larger quantities of Kayaks including 16 units and up see our Large Capacity Canoe/Kayak Trailers

Click Here for Frequently Asked Questions