Racks for Open Box
Pickup Trucks
Full Feature Model, Economy Model, and Do It Yourself Options


FREE SHIPPING ON TRUCK RACKS*
*within the 48 USA
MADE IN THE USA
FROM AMERICAN MADE COMPONENTS
High Quality Aluminum and Stainless Steel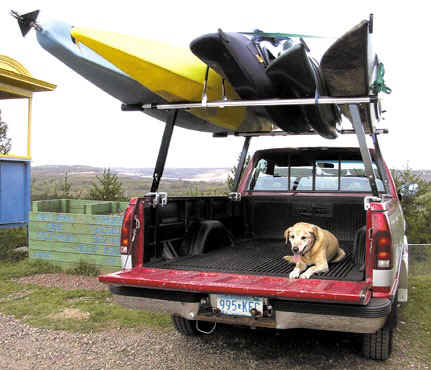 TT-2 Truck Rack - Quickly and Easily Mounts to Any Pickup Truck
(Sorry, Pickup Truck, Kayaks and Dog not included)
DIY-NOBAR Rack is 169.00 + FREE Shipping (48 USA)
EC-2 Rack Set is 399.00 + FREE Shipping (48 USA)
TT-2 Rack Set is 598.00 + FREE Shipping (48 USA)
Scroll Down the Page for Details & Option's Pricing
Aluminum and Stainless Steel - They Never Rust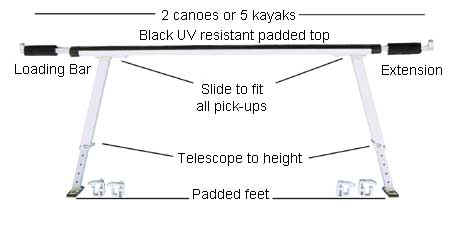 600 Lb Capacity on TT-2 Rack set

Top of rack is 65" wide closed, with a loading bar/side extension on each side of 20", giving a maximum width of 105" possible with both sides fully extended. Leg Extensions will adjust in 6 increment positions to fit many possible size requirements. The top rack bar is 2-3/16" wide and 1-1/2" high. Height adjusts from 24" to 34" in 2" increments above bed rails. Easily adjusts to fit Small Pickup Trucks up to Large Super Cab Pick Ups such as the Ford F350. 34" maximum height gives you the clearance needed for Double Cab trucks. Padded Feet are 3"W X 5" L.



TT-2 Racks Clamp Securely to the Bed Rails of any Pickup Truck Adjusts to fit small and full size pickups. You can quickly remove the clamp mounts on the truck for storage in your garage when not in use. A molded cover protects your bed rails. Height and width are easily adjusted. All Aluminum & Stainless Steel construction. Model TT-2
Note: Bed Liners may require some trimming.

Note: Trucks with Inside Slide Rails, such as Toyota Tacoma's and some Nissan's models, can use the TT-2 Truck Rack. Specify that your truck has the Inside Slide Rail, and Special Clamps Options will be added at no additional cost
| | | |
| --- | --- | --- |
| | | Bedrail Clamps are All Aluminum, and they allow quick and easy detachment with a simple wrench. For added security, order the optional SEC-TT2 Security Package which replaces one bolt in four of the eight clamps, with an Allen style screw head. |
| Close-up of Truck Rack Clamp Detail | | Optional Security Bolt Package with Tool |
| | | |
| --- | --- | --- |
| KS-1 Kayak Saddles can be added to the TT-2 Truck Rack | | |

Load Stops

Optional Load Stops LS-4

LS-4 Load Stops come as a Set of 4. Use them on the TT-2 Truck Rack, The EC-2 Truck Rack, The NSC-2 Roof Rack, and the HR-2 Hitch Rack. Prevents your boat from shifting from Side to Side. Quickly attaches to most other cross bars. Sturdy aluminum frame with Non-Marring Vinyl Block. Slides to any position on Bar.

Individual Stop is approximately 3" High x 4" Wide
Fits up to 2-3/4" Wide x 2-1/4" High Square or Rectangular racks and Fits up to 2-1/4" round bars.
| | | |
| --- | --- | --- |
| | | |
| Truck Racks can carry multiple Kayaks, two canoes, a boat or a small sailboat | | Both sides of top racks on the TT-2 Only extends for use as a loading bar or as an extension for wider boats |
+
PRICES
TT-2 Rack Set
4 Posts 2 Crossbars

$ 598.00

+ FREE Shipping (48 USA)

Full Featured Rack Set
If you need only one rack - order the TT-1

TT-1 Rack
Single Rack

$ 309.95

+ FREE Shipping (48 USA)
Optional Extra Equipment

LS-4
Set Of 4 Load Stops
59.95
KS-1
Kayak Saddle Set for One Kayak
109.95
SEC-TT2
Security Package #
21.00
K-ST
Set of Two 7' Straps for Kayak
10.00
C-ST
Set of Two 15' Straps for Canoe
16.00
R-CLP
Substitute Rail Clamp in place of Standard for certain Toyota and Nissan Rail Systems
No
Charge*
*No Charge for R-CLP when ordered with TT-1 or TT-2 Truck Rack(s)
# SEC-TT2 consists of 4 tamperproof bolts with a special tool.
Replaces one bolt on each clamp to make them difficult to remove.
TT-2 Truck Rack Advantages Vs Other Racks
Other racks make you buy expensive accessories to carry canoes & kayaks


| | |
| --- | --- |
| TT-2 RACK SYSTEM | OTHER RACKS |
EC-2 Truck Rack Set

EC-2 Truck Rack Set comes with 2 sets of uprights (4 Posts) and 2 Thule Cross Bars

Uprights are pictured with customer supplied wooden cross bars used in the DIY-NOBAR System

EC-2 Rack System is available in two Heights (fixed) - Full Size or Mid Size Pickup

Cross Bars are available it Two Sizes - 65" Standard or 78"Optional
EC-2 Truck Rack Set for the economy minded - Same strong construction as the TT-2 Rack Set, but with fewer features. This Rack does not have height adjustment or loading bars. Unlike the TT-2 Rack, the crossbar clamps are exposed on the top rail.
Be sure to "straddle" the top clamps to avoid contacting your boats hull.
Use the standard 65"Crossbar for Single Canoes or Two Kayaks.
Order the 78" Crossbars for carrying Two Canoes.
Also available is the DIY-NOBAR System that allows you to provide your own crossbars
PRICES
EC-2 Rack Set
4 Posts 2 Crossbars

$ 399.00

+ FREE Shipping (48 USA)

65" Crossbars Standard
Specify Full Size or Mid Size Truck
Optional 78" Crossbars to
replace two 65" crossbars

Add 20.00

EC-1 Rack
2 Posts 1 Crossbar

$ 219.00

+ FREE Shipping (48 USA)

Optional 78" Crossbar to
replace one 65" crossbar

Add 10.00
DIY-NOBAR Do It Yourself Truck Rack

Thule Crossbar
Typical Thule Truck Rack System
Wood Crossbar

DIY-NOBAR Do It Yourself Rack comes with 1 set of uprights (2 Posts) . Use your existing crossbars from a Thule, Yakima or other brand roof rack. You can also make your own crossbars from wood -maximum width is 2-3/4:. Order 2 DIY-NOBAR for a 4 post set.
PRICES
DIY-NOBAR
2 Posts Only

$ 169.00

+ FREE Shipping (48 USA)

No Crossbars