Small Sailboat Trailer
For Holder, Snark, Sunfish, Phantom, and other similar sailboats up to 200 lbs

| | |
| --- | --- |
| | Trailex Ultra-Light Aluminum Trailers come with a One Year Limited Warranty. Almost 50% lighter than steel trailers and they Never Rust |
FREE SHIPPING ON TRAILEX SUT SERIES TRAILERS*
*within the 48 USA
Trailex Model SUT-220-S Trailer
Latest Model Series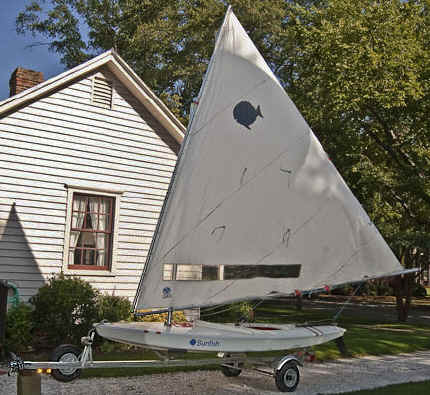 Trailex SUT-220-S Sailboat Trailer with Sunfish
(it is not recommended that sailboats are trailered with masts fully rigged)
SUT-220-S Trailer is 966.00 + FREE Shipping (48 USA)
Scroll Down the Page for Details , Available Options Pricing and Action Videos

SPECIAL OFFER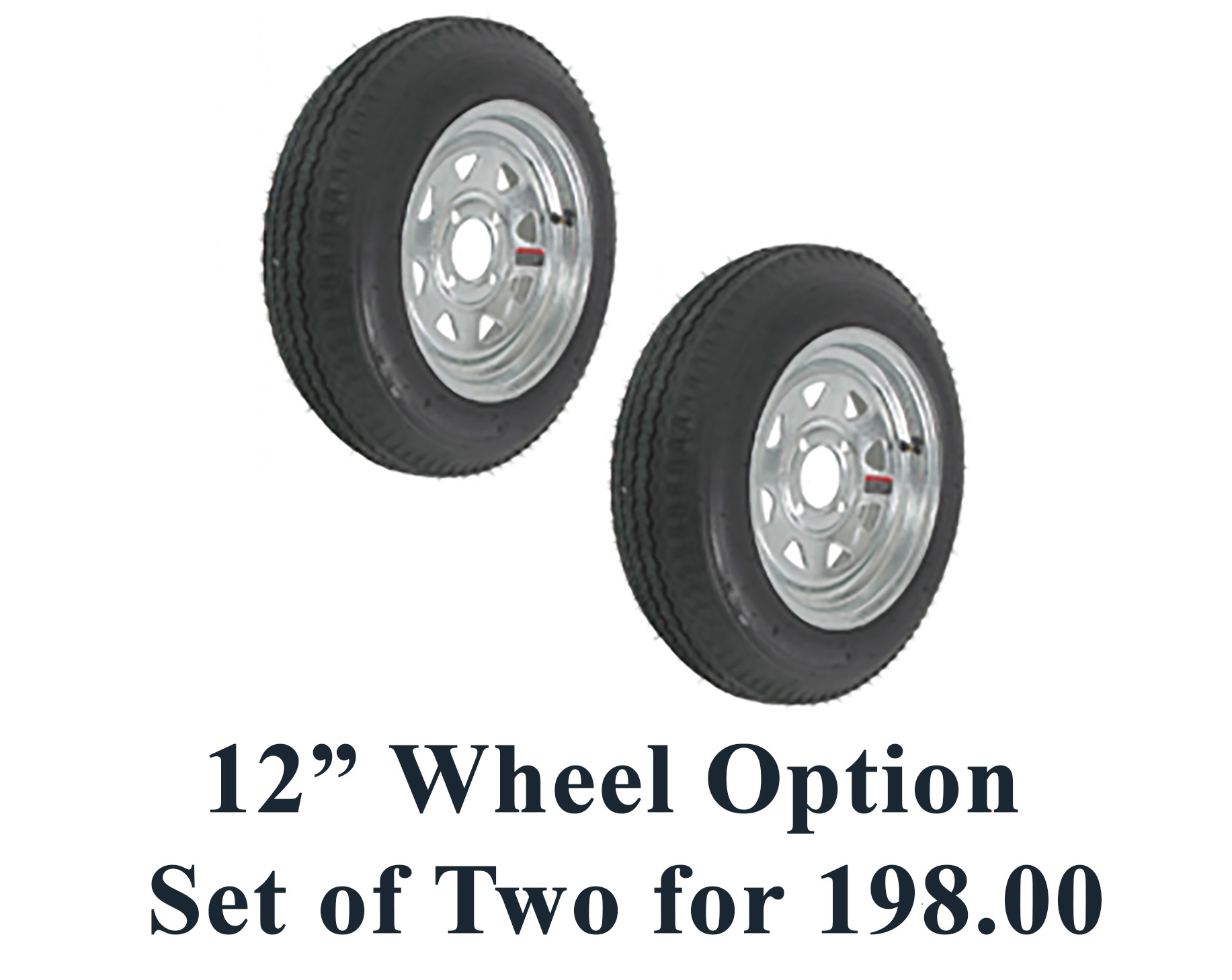 (offer only valid when ordered with trailer)
Sorry, Offer Does Not Apply to Prior Sales + Limited Time Offer
Watch a Video on the SUT-220-S Features
---
---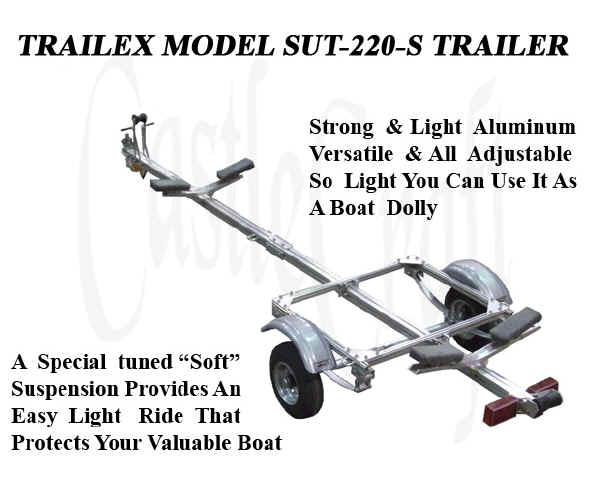 The SUT-220-S is so light, it is often used also as a launching dolly
All Aluminum, All Bolted Construction, All Adjustable
Model SUT-220-S will transport a single sailboat or boat. It uses a special tuned suspension to virtually eliminate "Road Bounce" on light sailboats and other small boats. This trailer can be shipped via UPS, and is easily assembled. Since the SUT-220-S Trailer is made of aluminum, it is maintenance-free in addition to being strong and lightweight. Optional mast carrier sets are available.
Price

966.00

+ FREE SHIPPING
in 48 USA

Specifications

Standard Equipment

Capacity:
Weight:
Length:
Width:
Tires:
Coupler:
Electrical:

220 lbs
125 lbs
15'-2"
52 "
16" High
1-7/8"
Flat 4 prong


Submersible Taillights

Safety Chain

Padded Cradles on Adjustable Brackets

Adjustable Bow Stop

High Impact Plastic Fenders

Lift Handle with Vinyl Caps

High Speed Demountable Galvanized Wheels & Tires

Adjustable Undercarriage

Rear Loading Roller

Web Strap Clips (4)
Bearing Protection System
Included on Every Trailer


Sure Lube low pressure bearing lubrication system. Protects bearings and prevents any seal damage.
Easy to use. A Zerk Fitting is located under the axle's end cap. Removing the end cap allows you to use a
small grease gun to lubricate the bearings.
The new grease pushes the old grease out.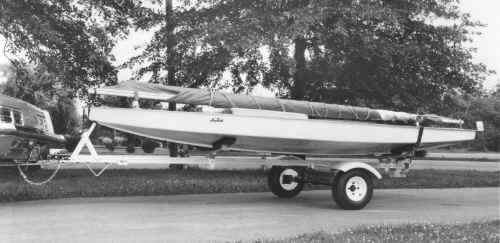 Trailex Model SUT-220-S Trailer with Optional Mast Carriers
Sunfish Sailboat shown on Trailer
Trailex SUT-220-S Trailer Shown
With 11' Snark Sunflower Sailboat
-
Trailex SUT-220-S Trailer Has
Dual Submersible Taillights
With Lighted License Plate Holder
Trailex SUT-220-S Trailer Shown
With a 13'-10" Sunfish Sailboat

The Sunfish Sailboat is a Perfect Fit
on the Trailex SUT-220-S Trailer
To Lower Boat Height
To Raise Boat Height
Trailex SUT-220-S Can Be Adjusted for Boat height by changing the Tongue Position
| | |
| --- | --- |
| | Cradles on SUT-220-S will allow bunks to be adjusted inward to accommodate narrow boat hulls, such as kayaks & Some Sailing Skiffs |
Semi Vee Hulls
Adjusts to any Hull
Swivels Flat

Trailer Cradles Adjust to any Point on the Tongue - Bunks Swivel to Hulls Contour
Application Information
The Standard Model SUT-220-S will carry up to a 17' long Sailboat or Boat
such as Holder, Snark, Sunfish, Phantom, and other similar sailboats
Multi-Carrier Trailers for Small Sailboats are also available - contact us
For greater capacity of up to 350lbs
see the Model SUT-350-S Trailer - Click Here
Click Here for Frequently Asked Questions
| | |
| --- | --- |
| | Typical Trailex Trailer Packaged for FedEx Shipment |
Patented T-Bolt Construction

Fully Adjustable

Heads of bolts slide to any position.

Requires only one wrench to tighten

Lock nuts on all bolts

Strong & lightweight
Trailex SUT-250M-2 Trailer Video
---
---