TB-1 Tote Bag for Hydrodynamic or Eathafoam Float Stabilizers is 39.95
(Shipping is FREE when ordered with either Stabilizer Package)
Bonus Buy!





FREE ACCESSORY OFFER
Save $ 39.95

LIMITED TIME OFFER

Ask for the Bonus Package and you will receive:


The TB-1 Tote Bag
for Hydrodynamic or Eathafoam Float Stabilizers

Bonus Item FREE
(offer only valid when ordered with Stabilizer System Order)

RETAIL VALUE OF PACKAGE $ 39.95

* This special offer is available only when ordering as a package with a Stabilizer System as part of the original order.




Sorry, Offer Does Not Apply to Prior Sales
Canoe Model Notes
If you have any of the following - Please mention when ordering so we can provide you with the correct Stabilizer Model
Coleman All Models
Grumman "Eagle" Model
Grumman "Falcon" Model
Mad River "Adventure" Model
Native Watercraft All Models
Pelican All Models
Which Model Is Best for You?
SF-C-EF Eathafoam Floats are What Most People Order for a Canoe. Since the Eathafoam Floats are on a Center Pivot, They are not Designed to be in the Water While You Travel. Keep Them Raised out of the Water and if You Start to Tip, They Will Prevent You From Tipping Over. When you Arrive at a Location Where You Want Extra Stability, A Quick Turn of the Knob Lowers Them into Contact with the Water.
SF-C-HD Hydrodynamic Floats are Larger and Offer Even Greater Stability. They are Designed to Travel in the Water, While Paddling or Motoring. Hydrodynamic Floats are torpedo shaped and lock in place to track alongside the boat thru the water.
Both Models Will Adjust to Attach to Any Point Stem To Stern on Your Canoe. Many Sportsmen Attach Them About One-Third Back From the Bow as a Convenient Spot, However, You Have the Flexibility of Putting Them at any Position You May Prefer.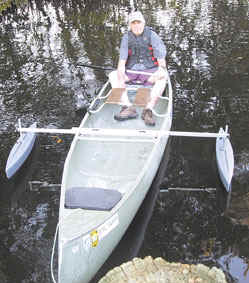 Hydrodynamic Floats on Canoe
-