Folding Canoe Dolly
Cart for Boats, Canoes, Kayaks, Sailboats


FREE SHIPPING ON CANOE DOLLY*
*within the 48 USA
CC-16 Canoe Dolly - Aluminum Frame

The CC-16 Canoe Dolly has Large 16" High Pneumatic Tires
Featuring High Ground Clearance
No Axle to get in the way when rolling over rocks or obstructions

The CC-16 Canoe Dolly Quickly Folds For Easy Storage
CC-16 Canoe Dolly is 370.00 + FREE Shipping (48 USA)
Scroll Down the Page for Details & Option's Pricing

Model CC-16 Folding Canoe Dolly is a High Quality small boat dolly that
provides an economical way to move your boat, canoe, kayak or sailboat.

WHEELS

WHEEL
SPACING

BUNKS

BUNK
SPACING

WEIGHT
LBS

CAPACITY
LBS

16 x 4.0
Pneumatic

30" inside
37.5" outside

12" x 3"

0 to 20"

23 lb

150 Soft Sand
250 Hard Surface
Carts are made from lightweight aluminum and stainless steel with vinyl covered supports. The Wheel rims are solid painted steel with a pneumatic tire. The dolly quickly disassembles for in boat storage. You can easily separate the wheel sections with a pop button to achieve a smaller storage space. The no axle design gives you high ground clearance of 13.5". The handle is 18" and acts as a kickstand support. Bunks adjusts to any distance spacing from 0" to 20" along the 30"wide top bar. Includes 6' long tie-down straps. The dolly will work with larger, wider boats with an external strap acquired at a local hardware store.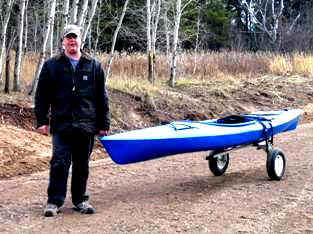 CC-16 can also be used with many types of boats

The CC-16 Canoe Dolly and It's Companion KC-12 Kayak Dolly
are Identical, except for the Wheel Sizes

PRICES
Model CC-16 $ 370.00 + FREE Shipping & Handling (48 USA)