Folding Canoe Dolly
Cart for Boats, Canoes, Kayaks, Sailboats


FREE SHIPPING ON CANOE DOLLY*
*within the 48 USA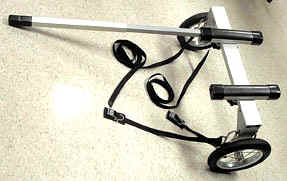 Note: Shown with Smaller Kayak Dolly Wheels. See Photo Below.
Canoe and Kayak Dolly Use the Same Frame
CC-16 Canoe Dolly is 219.00 + FREE Shipping (48 USA)
Scroll Down the Page for Details & Option's Pricing

Model CC-16 Folding Canoe Dolly is a High Quality small boat dolly that
provides an economical way to move your boat, canoe, kayak or sailboat.

WHEELS

WHEEL
SPACING

BUNKS

BUNK
SPACING

WEIGHT
LBS

CAPACITY
LBS

16 x 4.0
Pneumatic

30" inside
37.5" outside

12" x 3"

0 to 20"

23 lb

150 Soft Sand
250 Hard Surface
Carts are made from lightweight aluminum and stainless steel with vinyl covered supports. The Wheel rims are solid painted steel with a pneumatic tire. The dolly quickly disassembles for in boat storage. Wheels fold in like an airplane's landing gear --Note due to the large wheels on the canoe dolly, the second wheel will not fold flat, but will remain at an angle atop the first wheel--You can easily remove the second wheel with a pop button to achieve a smaller storage space. The no axle design gives you high ground clearance of 19". Telescoping 40" handle also acts as kickstand support. Bunks adjusts to any distance spacing from 0" to 20" along the 30"wide top bar. Includes 6' long tie-down straps. The dolly will work with larger, wider boats with an external strap acquired at a local hardware store.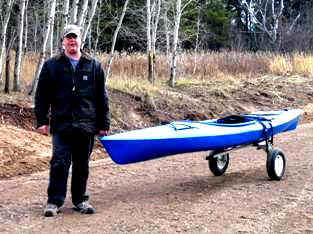 CC-16 can also be used with many types of boats
(Shown with 16" Tires with solid rims)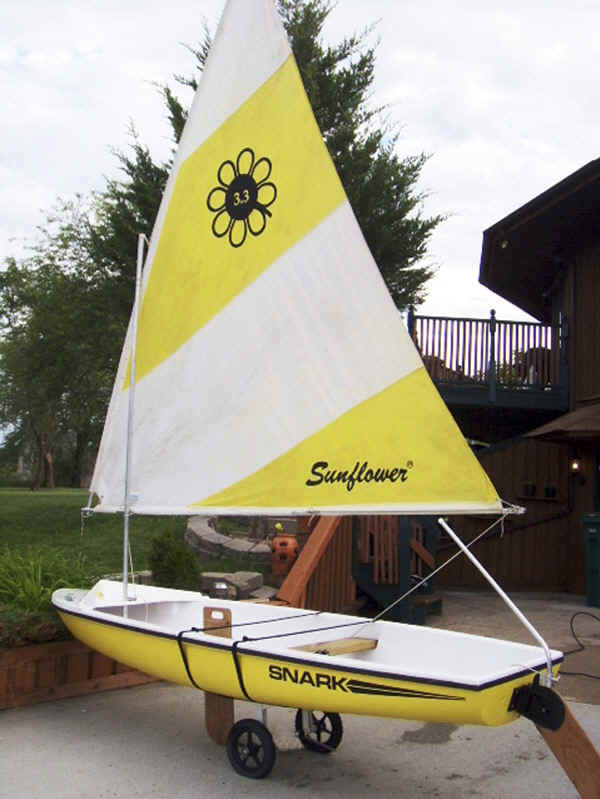 Folding Canoe Dolly also works well with Small Sailboats - Snark Sunflower Shown
(KC-11 Dolly Shown with12" Tires)
The CC-16 Canoe Dolly and It's Companion KC-11 Kayak Dolly
are Identical, except for the Wheel Sizes

PRICES
Model CC-16 $ 219.00 + FREE Shipping & Handling (48 USA)