Trailex Heavy Duty Dolly
Cart for Boats, Canoes, Kayaks, Sailboats


FREE SHIPPING ON HEAVY DUTY DOLLY*
*within the 48 USA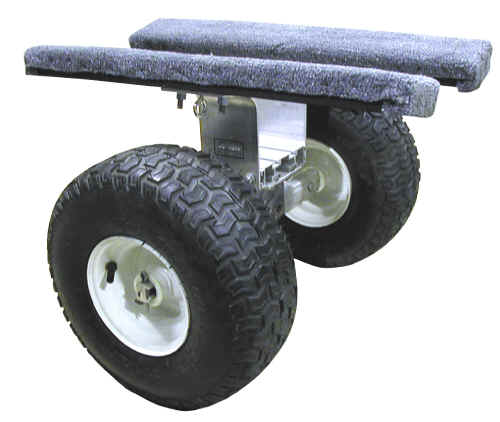 Model SUT-300GPD
This is the "toughest" dolly around
SUT-300-GPD Dolly is Not Available
Scroll Down the Page for Details & Option's Pricing
Model SUT-300GPD Boat Dolly is constructed of all aluminum with carpet covered wooden bunk supports. The padded bunks are the same as are found on Trailex trailers. The bunk supports adjust to fit the hull contours of different boats. Two underside eyebolts allow for user's own strap attachment.
WHEELS

WHEEL
SPACING

WIDTH


LENGTH

WEIGHT
LBS

CAPACITY
LBS

15" x 6"
Pneumatic

24"

24.5"

24""

37

300
Additional Specifications:
Carpet covered bunks are 24" long and 2" high by 4" wide
Outside edges of bunks are 14" wide, Inside spacing is 6"
Clear height from bunks to axle is 7". Angle is 10 degrees.



SUT-300GPD with Old Town Kayak (not included)

Applications:
Canoes
Kayaks
Sailboats
Fishing Boats - Jon or Semi Vee