Boat Dolly
Features Optional 18" FAT Wheels
Great for Beaches and Rocky Areas
Cart for Boats, Canoes, Kayaks, Sailboats


FREE SHIPPING ON BOAT DOLLY*
*within the 48 USA
DD-SD Dolly - Aluminum Frame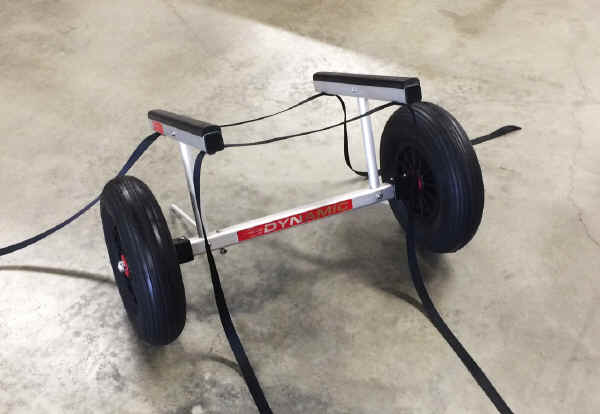 The DD-SS D Boat Dolly has Standard 16" High Pneumatic Tires-- Optional Upgrade to FAT Wheels - X-Large 18" X 9.5" "Standard" Wheel works well on Firm Ground Such as Pavement, Grass, Gravel. OK for firm sand when used with a light boat
18" FAT "X- Large" Wheel Works Well on Soft Sand and Rocky land - Great Beach Tire.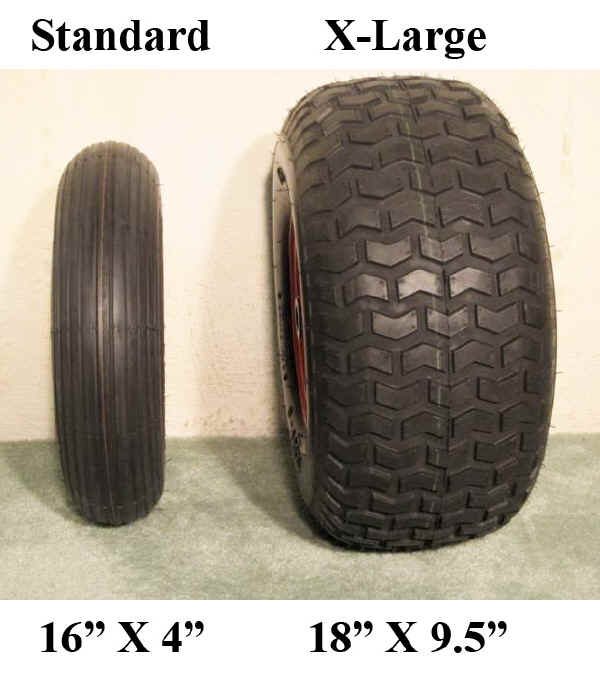 Both Wheels have Heavy Duty Rustproof Plastic Rimes and Rustproof Delrin Bearings
Available Tire Tread design May vary
DD-SD Dolly Standard Wheels is currently unavailable
DD-SD Dolly 18" FAT Wheels is currently unavailable
Scroll Down the Page for Details & Option's Pricing

MADE IN THE USA
FROM AMERICAN MADE COMPONENTS
WHEELS

WHEEL
SPACING

BUNKS

BUNK
SPACING

WEIGHT
LBS

CAPACITY
LBS

16 x 4
Pneumatic

26" inside
34" outside

19" Long

20"

20 lb

100 on Soft Sand
100 on Hard Surface

18 x 9.5
Pneumatic
26" inside
44" outside
19" Long
20"
30 lb

100 on Soft Sand
100 on Hard Surface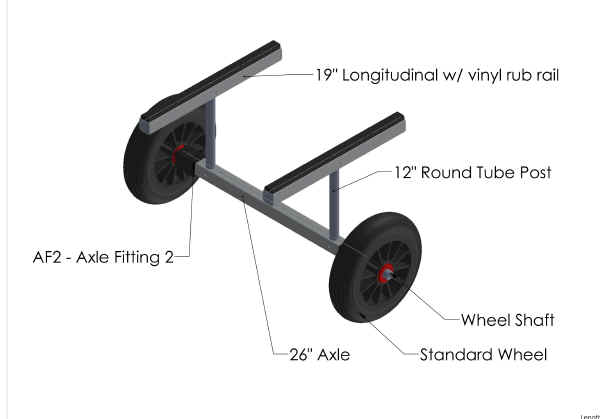 Carts are made from anodized aluminum and stainless steel with vinyl rub rail on the supports. The Wheel rims are heavy duty plastic with a pneumatic tire. Wheels have Rustproof Delrin Bearings. The dolly easily disassembles . Acts has a kickstand support to aid in boat loading. Tie-down straps are included . The dolly will work with larger, wider boats with an external strap acquired at a local hardware store.

18" FAT Wheels are great for Beaches
Easily move Boats, Canoes and Kayaks over Soft Sand and Rocky areas

PRICES
Model DD-SD - Standard currently unavailable Shipping & Handling (48 USA)
Model DD-SD - FAT currently unavailable Shipping & Handling (48 USA)